(Last update: 29th July 2021)
Ai Ai Download Page
Ai Ai is a Java-based general game playing engine based on Mogal (a GGP designed and developed by Stephen Tavener and Cameron Browne). Games can be hand-coded in Java (for efficiency), or assembled from blocks using a scripting language based on JSON.
Note: as of 4th April 2020, you'll need Java 11 to run Ai Ai. If you want an older version that runs in Java 8, follow this link: Last Java 8 release of Ai Ai
Here are a few lists of games in Ai Ai:
Ai Ai Reports
Ai Ai has quite a lot of analysis functions. If you're very, very patient (overnight is best) you can produce a detailed game report. Here are some examples: Ai Ai reports
Ai Ai online
As of 24th January 2019, Ai Ai also supports turn-based online play. Quick summary:
Run online.jar
Click the button on the left to create an account
Check your email (including spam folder) for a confirmation link
Log in, and start playing. If you want someone to challenge, I'm mrraow
Further reading
You'll find a little more on Ai Ai here:
How Ai Ai Got its Name
Adding games to Ai Ai in Java (and compatible languages)
Ai Ai Developer's Guide #1: MGL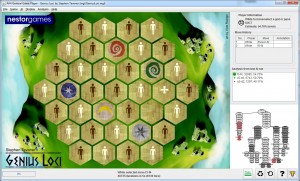 AiAi allows you to play games against a variety of AIs, mostly variations of MCTS (Monte Carlo tree search). It also contains analysis tools for game authoring; though these are more for my benefit than anyone else's at present.
AiAi is still very much in a state of flux, and rather lacking in documentation at present but I will link documentation here as I write it. Questions and comments welcome, and may well encourage me to write more!
I have added some threads to BGG for announcements, suggestions, and bug reports:
Announcements – subscribe to this thread to be notified when I update Ai Ai
Suggestions – any suggestions for improvements/new features should go here
Bug Reports – find a bug? Report it here. I will probably ask you for a save game file if it is a problem with a specific game.
FAQ – living FAQ; I will update the top post with questions and answers.
Game Candidates (long) list of games people would like to see implemented.
The latest version of AiAi will always be available here:
Ai Ai Download Page
Dr. Eric Silverman has written about Ai Ai several times; most recently
in this blog entry, which now has a part 2.